George Richards...or was he a King?
George Richards. Pop Richards. Poppy George. George Williams. These are the different names that I know my Gt Grandfather was known by. But was he in fact Victor Norman King?
The first record I have for Pop, is his enlistment in World War 1 as George Williams, in 1918. The story that he always told was that he went to enlist in the war, was under age and his father went and took him back home, and that he then ran away to enlist again, this time under his mother's maiden name, and never saw his family again. On his enlistment papers, dated 6 September 1918, he "claimed" that:
he was 18 years and 6 months old;
he was born 11 March 1900 in Essendon Victoria;
his parents names were John and Mary (maiden name unknown);
both parents were dead, "about 6 years ago";
he had no legal guardian;
he had been working for himself since the age of twelve, working in shearing sheds in the Riverina in N.S.W;
his next of kin was listed as S D Corby (a friend) - S D Corby was Sterling David Corby. Sterling Corby was the recruiting officer at Wagga Wagga;
He gave his address as Doccker Street Wagga Wagga, and the same address as S D Corby.
Included in his war record, is a letter he wrote in 1972 as George Richards, information in this letter confirms that this is the correct war record.
During the course of the First World War standards for age, minimum height and minimum chest measurement for enlistment in the AIF were altered. The requirements in August 1914 were 19-38 years, height of 5ft 6in and chest measurement of 34 inches. In June 1915 the age range and minimum height requirements were changed to 18-45 years and 5ft 2in, with the minimum height being lowered again to 5ft in April 1917. If Pop was born in 1900, in September 1918 he was of legal age to enlist, and would not have had to give a false name. This would seem to confirm that he was under 18 when he enlisted, making him born in 1901 or later.
The next record that I have is his marriage certificate to Agnes Millstead in 1919 in Gilgandra. On this, he gave his parents names as Joshua Charles Arthur Richards and Mary Jane Williams. He gave his age as 22, which would put his date of birth around 1897 (based on the story that he told and his war record, this is incorrect). All other records after 1919 consistently give his date of birth around 1897/1898.
Prior to September 1918, I have not been able to find any record for George Richards' existence. Which leads me to Victor Norman King.
Victor Norman King was born on 11 March 1901 in Burwood Victoria. His parents names were Joshua Charles Arthur King and Annie Williams. This got me wondering, what if Pop changed his name when he enlisted, to make sure his parents wouldn't find him. I started researching Victor King and his family.
Joshua Charles Arthur King was born 7 December 1863 in Little Brighton Victoria, the son of William Oliver King and Elizabeth Thompson. He married Annie Williams on 21 August 1889 in Dandenong Victoria. Annie was born in 1869 in Rosedale Victoria, the daughter of Richard Williams and Ann Osbourne (formerly McCaulay). Joshua and Annie had 8 children:
Alice Thomson King (1890 - 1890) n.m
Gordon King (1891 - 1891) n.m
Annie King (1892 - 1892) n.m
Lily Mary King (1894 - 1988)
Joshua Charles Arthur King (1896 - 1981) n.m
Alma Annie King (1899 - 1900) n.m
Victor Norman King (1901 - ?)
Albert Arthur King (1903 - 1912) n.m
Annie King died 9 August 1903, 3 weeks after the birth of Albert King. Her death notice in the Melbourne Argus (11 August 1903) states that she died at her residence after childbirth.
Albert King died 3 December 1912 at the Children's Hospital Melbourne. His death notice states that his father, Joshua, was living in Kogan Queensland at the time. I have not found where the children were living at this time, they may have stayed in Melbourne with an aunt or uncle. Albert's death notices states that he was the dearly loved nephew of Mrs I Riley of Camberwell and John King of Dandenong. His death certificate states that he had lived in Victoria since birth.
Electoral Rolls show that Joshua Charles Arthur King was a grazier at Kogan in 1913, as was his brother, Joseph Robert Alexander King. The electoral roll also lists Joshua King as a grazier at Kogan. Joseph Robert Alexander King had a son, John Joshua A King, I have not yet been able to confirm if this is the same person.
By 1914, according to Electoral Rolls, Joshua Charles Arthur King was a grazier at Lancefield Victoria. From newspaper articles of the time, the family was still in Lancefield in 1917. In the Lancefield Mercury and West Bourke Agricultural Record (27 July 1917), Victor King is noted as having won a Euchre competition, a Miss King and Mr King are also mentioned, these could be Victor's brother and sister or father and sister.
By 1918, the family had moved back to Box Hill. The Camberwell and Hawthorn Adviser (1 March 1918) reported that a number of cadets were dealt with by the police magistrate for drill evasion, one included in the report was Victor Norman King. His case was struck out as he had "gone to New South Wales".
Victor returned home at some point, as the next mention of him is in the Victorian Police Gazette (24 October 1918), which reported that he was "missing from his home at "Hurley", Merton Street, Box Hill, since 4th ult." (i.e. 4th September). His description was given as "17 1/2 years, 5 ft. 7 in., 11 stone 5 lbs., very fair complexion, fair hair, grey eyes, wore a grey sac suit, grey felt hat with black band, and gabardine overcoat.". It was noted that " He may go to New South Wales".
This is the last that is known of Victor King. His family placed notices in a Wagga newspaper asking for him to make contact with them. The grand-daughter of Lily King (Victor's sister), advised that Victor "disappeared" during the war and no-one heard from him again, that her grandmother had searched for him but had no luck.
So...Victor King was last seen by his family in Box Hill Victoria on 4 September 1918, and the first documented evidence of George Richards is 6 September 1918. George's description on enlistment was given as 18 years 6 months, 5 feet 6 1/4 inches, 144 lbs (10 stone 4 pounds ), complexion fair, eyes grey, and hair light brown. This description is similar to his description when he was reported as missing. His disappearance in March 1918 could be the first time Pop ran away to enlist. When his family looked for Victor after the War, they looked in Wagga.
This table provides comparisons between George and Victor.
Event
George Richards
Victor Norman King
Date of birth

11 March 1900 (WW1 enlistment)
11 March 1898 (WW2 enlistment)
1897 (marriage certificate)
11 March 1897 (Pop)

11 March 1901 (birth certificate)

Place of birth

Essendon Victoria (WW1 enlistment)
Burwood Victoria (marriage certificate, WW2 enlistment, Pop)

Burwood Victoria (birth certificate)

Father's Christian Names

John (WW1 enlistment)
Joshua Charles Arthur (George's marriage certificate)

Joshua Charles Arthur (Victor's birth certificate)

Mother's Maiden Name

Williams (George's marriage certificate, WW1 enlistment)

Williams (Victor's birth certificate, Joshua and Annie's marriage certificate)

Mother's Christian Names

Mary (WW1 enlistment)
Mary Jane (George's marriage certificate)

Annie (Victor's birth certificate, Joshua and Annie's marriage certificate)

Description as at September 1918

18 years 6 months
5 feet 6 1/4 inches
10 stone 4 lbs
complexion fair
eyes grey
hair light brown

17 years 6 months
5 feet 7 inches
11 stone 5 lbs
complexion very fair
eyes grey
hair fair
For now, we can only guess if they were the same person. But the search will continue until I can prove or disprove this theory.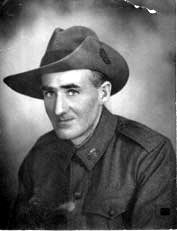 George Richards about 1918