Young Family
Our Young family came to Australia from Northern Ireland. Robert Young was born about sometime between 1802 - 1806 in County Tyrone, possibly at Anna Guinea (Annaguinea/Annyginny) Lodge County Tyrone Ireland. His parents may have been James Young and Margaret Hamilton (see below). According to his son, Thomas' birth certificate, he married Elizabeth Howard on 22 June 1829 at Carland County Tyrone. Elizabeth was born about 1814 in Dungannon County Tyrone. Please click here for more details on the Howard family
A daughter, Margaret, is said to have been born 26th April 1831, the next daughter was Sarah, is said to have been born 25th February 1833, both were born in County Tyrone. Elizabeth's death certificate (in 1905) states there were 1 Female and 3 Males deceased. If this is correct, then it appears that there may have been another daughter and a son born in Ireland, but if so, they died before the family came out to Australia. The family travelled to Tasmania on the "Sarah", they left England on on 26 October 1834 and arrived in Hobart on 14th February 1835.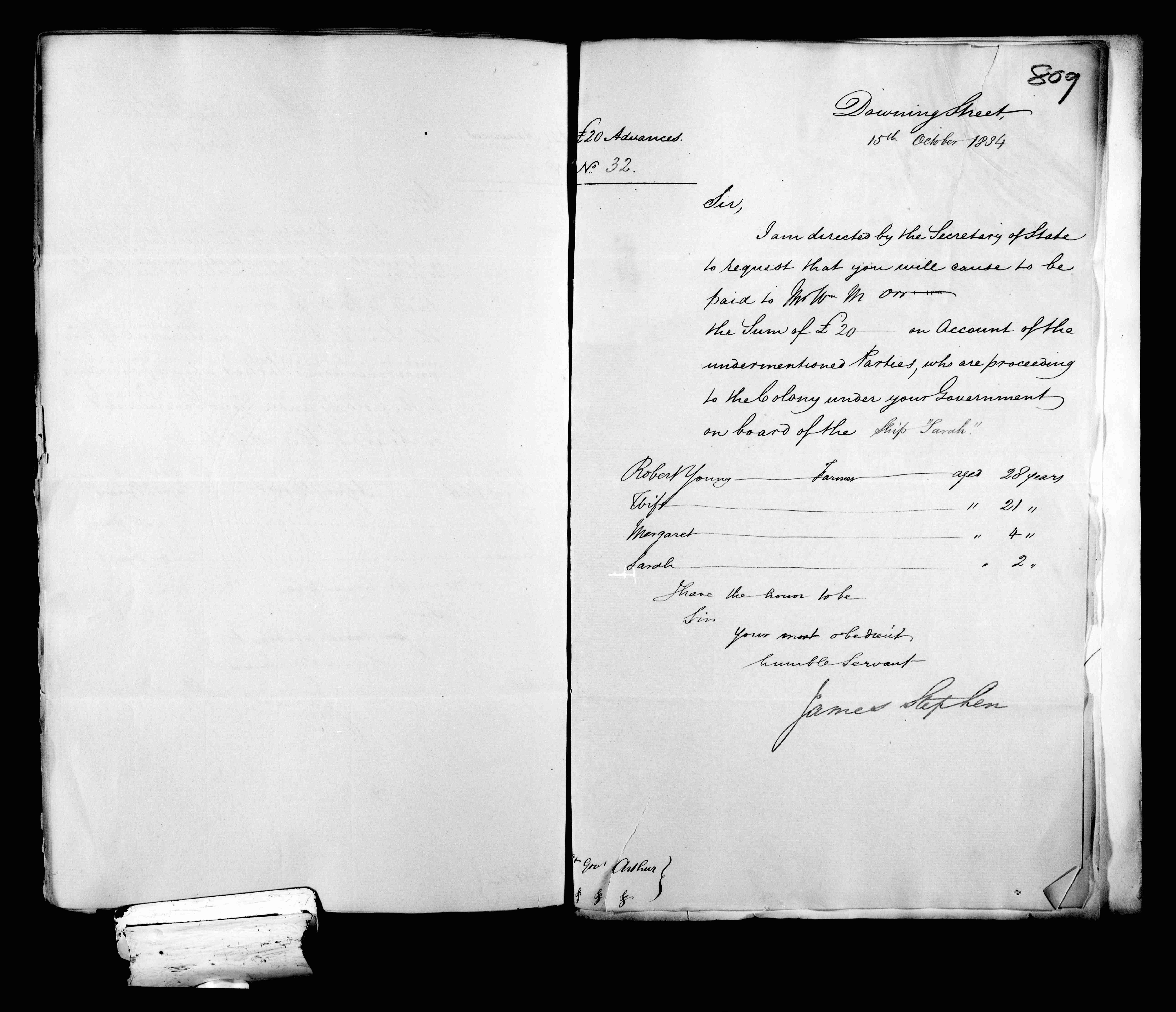 Young Family Shipping Details to Hobart
Their son, Robert James Young, was born in Hobart on 11 March 1835, and was baptised there on 15 March 1835. His father's occupation was listed as farmer. Another descendant of the Young family tells the story that:
"Robert was born in Van Dieman's Land because the ship that his parents were coming to NSW on called into Van Dieman's Land and they became guests of the governor. He tried to persuade them to stay, instead of sailing for the mainland. He even settled a parcel of land on the new born child, Robert, in attempt to convince his parents to stay."
Unfortunately, Robert Young's baptism certificate doesn't give his parents address, just that they lived in Hobart Town. The Governor of Tasmania at that time was George Arthur (later Sir George Arthur). There are no obvious connections or links between George Arthur and the Young family, George Arthur was born in Plymouth England. He entered the army, and fought in various major campaigns, then went on to be the Governor of Honduras prior to becoming the Governor of Tasmania. Further research is required to prove or disprove this story
I have found a Robert and Mary Young and their three children who left Hobart on 28th March 1835, and arrived in Sydney on 7th April 1835, on the "Waterloo". Apart from the discrepancy of Robert's wife's name (Mary, not Elizabeth), this appears to tie in with our Young family. It is worth noting that the next name recorded on the passenger list after "Mary Young" is "Mary Doyle". It could be a simple clerical error, Elizabeth's middle name may have been Mary (though there is nothing to confirm this), or this may not be our Youngs. An R Young travelled to New South Wales via Hobart in 1836 on the "Margaret Graham", however he appears to have boarded the ship in Ireland, and did not appear to have any family travelling with him. I have not been able to find any records for any other Young families travelling between Hobart and NSW in this period. Their second son, William, was born about 1836, but I have not found details of his birth or baptism to determine when or where he was born. The Youngs were certainly in New South Wales by late 1836. Court documents from the Court House at Wollongong show the following:
21st December 1836, Before William Sheaffe Esq J.P. David Keenan per ship "Surry", 1836. Life, assigned to Mr Robert Young. Robert Young of Dapto being duly sworn, deposes, 'Yesterday evening after sunset, I was telling one of my assigned servants that he might have taken the trouble of keeping the cattle from doing damage, while I was speaking I heard a f..t in the men's hut close by, and I went into it, and the prisoner (David Keenan) was insolent to me, and told me I had not blood enough to strike him, and on a former occasion he told me he did not "care a f..t" for me'. Sworn this 21 December 1836, W Sheaffe J.P. Robert Young Defence: My master put his fist to my nose, and I was not insolent to him. Guilty of insolence to his master, sentenced to receive a corporal punishment of fifty lashes William Sheaffe J.P.
From this it can be assumed that Robert had a number of convicts assigned to him. David Keenan arrived in NSW 17 May 1836 per "Surry". I have not been able to find when he was assigned to Robert Young, obviously it was sometime between May and December 1836. If I can find the date of assignment, this will narrow down further when the Youngs arrived in NSW.
There is apparently a rumour in the Young family that Robert Young was a cousin of Sir John Young who was a Governor of New South Wales in the 1860s. This has not been confirmed. Sir John's immediate family and ancestors did not come from County Tyrone, some of his immediate ancestors were from County Donegal and County Cavan. His 3 Gts Grandfather, Reverend James Young, was the Rector or Urney in County Tyrone. If there was a relationship to our Young family, it was probably quite distant
Children born to Robert and Elizabeth were:
Margaret Young (1831 - 1918) married John Murphy
Sarah Young (1833 - 1917) married William Gordon - Please click here for more details on the Gordon family.
Robert James Young (1835 - 1928) married Mary Cole
William Young (1836 - 1849) n.m
Elizabeth Young (1839 - 1927) married William Purdie
Henry Young (1841 - 1909) n.m
John Alfred Young (1843 - 1917) married i.Margaret Carberry, married ii. Victoria Glanville
Mary Anne Young (1847 - 1935) married Thomas Beaven
Priscilla Jane Young (1850 - 1933) n.m
Frances Charlotte Young (1853 - 1946) married John Johnston
Thomas Hamilton Young (1856 - 1980) n.m
The 1841 Census (taken 5 March 1841) places the Young family in Dapto, living in a wooden house owned by a Captain Mowle (sp?). There were 10 people living in the house, this appears to be 7 family members and 3 assigned servants who were classified as "Shepherds, and others in the care of Sheep, Gardners, Stockmen, and persons employed in Agriculture" By 1850, the Young family were living at Jamberoo, they moved from Jamberoo to Broughton Creek about 1869, and in June 1875 they moved to Sydney.
Robert Young died 7 May 1876 at his home in Redfern. He was buried, as per his request, at Jamberoo. His death notice described him as a "native of Anna Guinea Lodge, County Tyrone, Ireland". His son, Hamilton, was the informant on his death certificate, no details for Robert's parents were provided.
Significance of the name Hamilton

Hamilton was used as a middle name throughout the Young family, commencing with Robert & Elizabeth's son, Thomas Hamilton Young. All of the children of Robert and Elizabeth who had children, had at least one child with a middle name of Hamilton. The use of the name Hamilton continued in subsequent generations. This would indicate that the name Hamilton had some important significance.

The names used for their first two daughters may hold a clue. Elizabeth Howard's mother was Sarah Howard (nee Morrison). With one daughter named after Elizabeth's mother, it is possible that the other daughter was named after Robert's mother. They named their first son Robert James Young. Elizabeth's father's name was Robert Howard. In naming their son Robert James, this could have been for both grandfathers. The naming pattern for their other children may also hold clues, names used were also used by James Mitchell Young for his children, as well as being names of the siblings of Margaret Hamilton.

Research into Anna Guinea Lodge has shown that at the time of Robert's birth, Anna Guinea Lodge was owned by James Young. James was born at Anna Guinea Lodge about 1769. He married Margaret Hamilton about 1794. I have only been able to confirm one birth to James and Margaret, James Mitchell Young was born at Anna Guinea Lodge in 1800. A Confirmation record from 1824 lists Margaret Young, James Young and Robert Young at "Annaginny". In 1834 Priscilla Young the daughter of of the late James Young Esq. of "Annaguinea" married William Stewart of Belfast at Castlecaufield Church. Further research is required to determine who these people were, and their connection to each other, and if they were in fact siblings.

Of interest in the shipping details (above) is the fact that a sum of money was to be paid to a Mr Wm Morrow. James Mitchell Young married a Sarah Morrow, their first son was named William James Mitchell Young. Was Sarah's father's name William? Was this William Morrow Sarah's father? Why was he to be paid this money?

At this point, all the evidence is only circumstantial. Additional research will be required, to determine if Robert was the son of James Young and Margaret Hamilton.